Recommended Places to visit on Ios Island
Restaurants on Ios Island
Choose from some of the most popular restaurants on Ios
Pathos Sunset Lounge Bar and Restaurant
Modern Greek & Mediterranean cuisine in the most spectacular setup in the Cyclades
Hours: Every Day from 3.00pm
Location: Koubara Beach, IOS 84001, GREECE
Phone: tel. +30 698 100 0122
Freebeachbar Beachbar and Restaurant
From the rising sun to the depths of the sunset and the moonlit shadows of the palm trees there is always something exciting going on this beach haven in Ios Island of the Cyclades.
Location: Mylopotas Beach
Phone: +30  6970 97 4087
The Taste of Joy Restaurant
An outdoor restaurant with artistic décor, surrounding the spectacular 180m2 swimming pool of the new SLH boutique hotel Agalia Luxury Suites and overlooking the port of Ios overlooking the Aegean.
Location: TZAMARIA
M. +30 6970114922
T. +30 22860 91019
Katogi Restaurant
Rate Excellent by guests
Location: Ios Village (Chora)
M: +30698 344 0900
Lord Byron Restaurant on Ios Island
In the new location, the bar is big enough not only to enjoy a cocktail and listen to a great mix of jazz-lounge-Latin music, but also to dine. With so much to offer, Lord Byron will make your evening a memory for a lifetime!
Location: Ios Village, Chora
T: +30 2286 092125
Drakos Taverna
Location: Mylopotas Beach,
T: +30 22860 91281
Koumpara Seafood Restaurant
Location: Koumbara Beach
T.: +30 2286 091699
Meat Bar Rigani
M.: +30 693 233 9722
Location: Port of Ios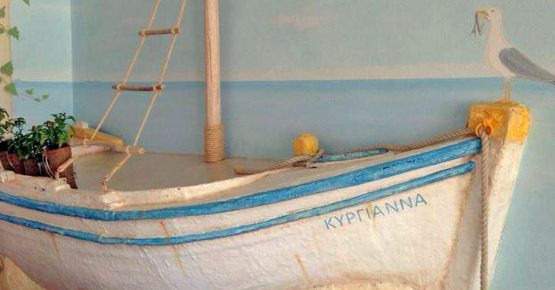 Meze Meze
M: 697 393 7083
Location: Port of Ios
Ciao Bella
Location: Chora
T.: +3022860 28077