Luxury Villa for Rent on the Island of Ios, Greece
An exclusive complex of Luxury Homes for rent in the heart of Magganari Bay, Ios Island Cyclades Greece
About Magganari View Villa and Magganari View Village on Ios Island
Magganari View Villa is a unique luxury villa which enjoys unobstructed , majestic sea views of Magganari Bay and the island of Santorini. It is located only a heartbeat away from three exquisite sandy beaches with crystal clear turquoise waters. Magganari View Villa, which accommodates up to 8 persons, is designed to offer refined relaxation and privacy. Outdoors, this classy villa features a generous infinity swimming pool surrounded by comfortable lounging and a pergola shaded barbeque dining area. Quality and elegance prevail throughout.
dining area. Quality and elegance prevail throughout.
---
Magganari View Village is a complex of three beautiful Cycladic houses accommodating from 2- 5 persons and gazing at the bay of Magganari from their spacious, private verandas. The complex features a shared swimming pool area and a bbq area. Meticulous attention has been given to detail regarding the design, handcrafted decor and the prime materials used, such as Greek stone and carved marble. All is in the detail; everything is meant to increase the level of the guests comfort and happiness.
This is a perfect villa and luxury houses for rent for large families or group of friends looking for a serene retreat with fabulous amenities and the dramatic Aegean setting.
Discover ultimate summer bliss !
Magganari View is bound to become your favourite Cycladic hideaway !
One of the most spectacular beaches on Ios Island
Ios has 87 km of coastline, of which 32 kilometers is sandy beach. One of the best is Manganari, a beach with a spectacular sequence of five bays – golden sandy beaches and above all crystal clear water. This magic place is worth visiting, so you can relive scenes from the "The Big Blue" movie, where it was shot.
---
Enquiry
Upon booking a 30 per cent of the total sum is expected as deposit .Full payment is required two weeks prior to guests arrival.
---
Pristine Beaches of Ios Island
Ios has been awarded 4 blue flags  so the sea lovers can safely enjoy the golden beaches and the crystal clear waters of our island.
What you should visit in Ios Island
A glimpse of all the attractions on the Island of Ios
Boat trips to little beaches
Wander around the the Island and live an unforgettable experience
Take your memories back with you
Get some Magganari memories back home with you! Order refined hand crafted ceramics or carved marble work from our workshop (Teny Ceramics) for your winter home to let some Summer bliss in.
Recommended Restaurants and Bars
Top Rated Restaurants and bars in the Island of Ios
Pathos Sunset Lounge Bar and Restaurant
Modern Greek & Mediterranean cuisine in the most spectacular setup in the Cyclades
Hours: Every Day from 3.00pm
Location: Koubara Beach, IOS 84001, GREECE
Phone: tel. +30 698 100 0122
Freebeachbar Beachbar and Restaurant
From the rising sun to the depths of the sunset and the moonlit shadows of the palm trees there is always something exciting going on this beach haven in Ios Island of the Cyclades.
Location: Mylopotas Beach
Phone: +30  6970 97 4087
The Taste of Joy Restaurant
An outdoor restaurant with artistic décor, surrounding the spectacular 180m2 swimming pool of the new SLH boutique hotel Agalia Luxury Suites and overlooking the port of Ios overlooking the Aegean.
Location: TZAMARIA
M. +30 6970114922
T. +30 22860 91019
Katogi Restaurant
Rate Excellent by guests
Location: Ios Village (Chora)
M: +30698 344 0900
Lord Byron Restaurant on Ios Island
In the new location, the bar is big enough not only to enjoy a cocktail and listen to a great mix of jazz-lounge-Latin music, but also to dine. With so much to offer, Lord Byron will make your evening a memory for a lifetime!
Location: Ios Village, Chora
T: +30 2286 092125
Drakos Taverna
Location: Mylopotas Beach,
T: +30 22860 91281
Koumpara Seafood Restaurant
Location: Koumbara Beach
T.: +30 2286 091699
Meat Bar Rigani
M.: +30 693 233 9722
Location: Port of Ios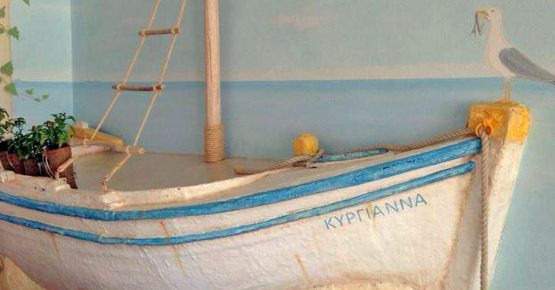 Meze Meze
M: 697 393 7083
Location: Port of Ios
Ciao Bella
Location: Chora
T.: +3022860 28077